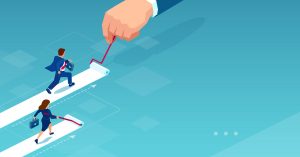 Without taking action, women currently earning an average UK salary could end up with more than £70,000 less in their pension pot at retirement than their male counterparts, new figures suggest.
The long-standing pension gender gap reflects the pay gap between men and women in the workplace: many women spend much of their lives working part-time to juggle caring responsibilities for children and other family members. As a result they also frequently fail to get promoted to higher paid jobs within an organisation.
However, this means that many women then have to subsist on a far smaller pension throughout their retirement years. Many women are also prevented from accruing a larger pension pot by retiring early in order to care for family members.
According to modelling by workplace pension scheme Nest, the average woman working full-time in the UK could have a £41,000 gender pension gap at retirement. However, when part-time work is included, this gap widens to around £72,500.
Nest calculated that a male pension saver working full-time could have £178,871 saved by retirement, while a woman could amass £137,863.
The calculations are based on average UK wages, and make several assumptions, including investment growth and that someone would start saving aged 22 and retire at 68.
When part-time work was taken into account, the modelling found a male worker could potentially end up with £161,999 while a woman could save £89,449.
Nest's director of strategy and corporate affairs, Zoe Alexander, said: "Women face systemic challenges in saving as much as men do for their retirement – these begin at the start of their working life and have a ripple effect throughout their life as they juggle conflicting priorities, lasting well into retirement.
"In times of financial instability, where every penny counts, pension contributions can seem like a luxury. But starting early and continuing pension contributions, if you possibly can, is the best way to futureproof your financial wellbeing in retirement."
Phil Brown, director of policy at The People's Pension, said: "Our own research into the 'motherhood penalty' shows that women who take a career break or reduce their hours in order to care for their families lose out on vital pension income.
"A future change to both the age and earnings thresholds for automatic enrolment would allow more women to save more for a workplace pension. It remains to be seen what impact coronavirus will have on the jobs market but it's hoped that the current trend towards flexible and home-working will enable more women to return to the workplace for longer and be able to save more towards a pension."
Helen Morrissey, pensions specialist at Royal London, said: "While women have benefited from auto-enrolment, this changes once they leave the workforce either to have children or carry out other caring duties.
"A mix of part-time work and time out of the workforce blows a hole in their retirement planning that is difficult to recover from and the cost of childcare can deter many women from resuming pension contributions at a later date.
"There is no one solution to this problem but Government must look at how we can keep women in pensions for longer. The issue of providing good quality childcare at a decent cost is vital to this, as well as more information around maternity leave and its impact on pensions."
Check our YOUR future prospects
If you or your partner is facing a potential shortfall in pension savings, why not check out what can be safely withdrawn during retirement using the RetireEasy LifePlanner. Importantly, if there is a shortfall, you can test out the impact of saving more in the years leading into retirement, or working longer, using the scenario function available with the Premium version