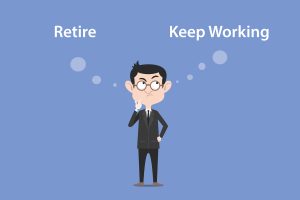 While most of us assume that we'll be retiring at a date of our choosing, new research shows that almost half of early retirees are forced out of work unwillingly by either poor health or redundancy.
In fact, found the Just Group research, 33% stop work due to ill health or physical problems, and a further 15% after losing their job and finding themselves unable to find another one.
Another one in 12 retirees give up earning an income to care for a loved one, many putting their retirement plans at risk to do so.
Even more alarmingly, three of the four who retired early said they did not have enough in savings and pensions to see them through retirement comfortably.
That contrasts with one in four (25%) who stopped working because they felt their pensions and savings were enough that they could afford to retire.
A further 2% said they gave up work due to an inheritance and 2% stopped because they no longer needed the income because their partner was still working.
A significant number – 8% – stopped working to provide care for a family member.
Stephen Lowe, group communications director at Just Group, said: "Nearly half (47%) of retired over-55s said they had stopped working earlier than they had expected compared to 43% who said they retired when they expected and 9% who retired later.
"Going forward it will be interesting to track whether Covid-19 has forced more people out of the workforce prematurely or whether the economic insecurity has led to people putting off their retirements for longer."
He added that the research has important implications for later life planning and for policymakers considering future rises in the State Pension Age. "People don't necessarily have the luxury of choosing the point they exit the labour market and many do so knowing their pensions and savings will not be sufficient."
Check out how your retirement plans are going…
If you want to find out how your retirement plans are faring, and if/when you can afford to retire, or how much more you need to save, then why not check out your financial future on the RetireEasy LifePlan site. It takes a few minutes to set your plan up, it's totally confidential and absolutely no one will try and sell you anything! Moreover, it costs just a few pounds a month to keep tabs on your plans longer term – and you can unsubscribe at any time.