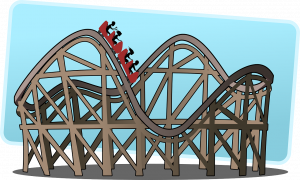 Anyone planning to retire during the next few years faces a "financial rollercoaster" according to LCP partner Steve Webb, based on the latest forecasts from the Office for Budget Responsibility.
In particular, he says, those who rely on the state pension for a large part of their income who really will see it rise by just 3.1% – less than half the rate of inflation – but by April 2023 the pension rise is forecast to be 7.5%: the biggest ever cash rise in the state pension. By April 2024, according to the OBP, the rate of the new state pension will go through the £200 per week barrier for those receiving the full amount.
In between, the coming twelve months are set to see steep rises in energy and many other key commodities. And while the Chancellor has announced help in the form of a one-off £150 rebate on Council Tax bills, this will only apply to those in properties in Bands A-D. Moreover, the promised £200 off energy bills in the Autumn will also have to be repaid over the coming five years.
And, although it won't help those entering retirement now, the Chancellor has committed the government to reduce the rate of income tax from 20% to 19% in 2024: the first fall in 16 years.
In one piece of positive news, the rumoured changes to tax relief on pension contributions – that they could be lowered or scrapped altogether – didn't end up in the Spring Budget. However, despite soaring inflation, the Pension Lifetime Allowance remains frozen at £1,073,100 for another four years, meaning up to two million savers will end up paying a 55% tax charge.
Commenting, LCP Partner Steve Webb said: "Pensioners are set to face a financial rollercoaster in the coming years with a tough squeeze this year followed by a catch-up next year. The Spring Statement will have been a big disappointment… but next year should see the biggest ever cash rise in the value of the state pension, as pension rates catch up.  The problem is that 'jam tomorrow' will not pay bills today."
___________________________________________________________________________________
If you have not yet tried RetireEasy, or if your subscription has lapsed, why not find out what inflationary pressures might mean for your retirement finances?
What's more, RetireEasy LifePlan Classic costs just £5.99 per month and LifePlan Premiumjust £7.99: there is no contract and you can cancel at any time.
Annual plans are also available and offer a hefty discount to the monthly subscriptions – offering you one way to beat inflation…