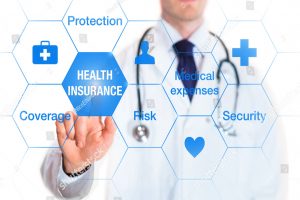 In this in-depth Q&A feature, we look at the additional flexibility and peace of mind that private health insurance can provide, introduce you to the free price comparison website Usay Compare and offer two months' free insurance.
Why should the 50s consider private health insurance?
Later in life, we are statistically more likely to need an increased number of medical treatments. And while the most serious conditions will be treated on the NHS, there can be waiting lists for some treatments… sometimes lengthy ones.
Private health care often offers the opportunity to access diagnosis or treatment earlier, and one way to fund this is to take out private medical insurance (PMI).  Inevitably, the older you are (and the number of existing conditions you already have) will affect premiums – and some providers are averse to offering PMI at all to some groups. For instance, not all PMI policies cover people over 70s or 80s.
The good news is: that many leading UK insurers do offer senior health insurance policies to those in or approaching retirement, giving them affordable access to the latest and best treatments and medicines, and with lots of flexibility around the level of cover that you require. You just need to know where to look for the best deals for you!
Accessing the right cover
A big myth around senior health insurance is the anticipated cost for policy premiums… that the likelihood of a higher number of treatments needed will be reflected in unaffordably high costs. However, the best policies available are helpfully designed for flexibility – so you can tailor your policy around your needs and only pay for those optional extras that you require, making them much more affordable.
What isn't covered with private medical insurance?
All insurers have a list of conditions and examples that will not be covered known as "general exclusions" and include war, riots and terrorism, and routine maintenance of existing chronic conditions. These will all be detailed within your policy documents, but you will also need to be aware of the difference that some pre-existing conditions can make – as the next section explains.
Can I get private health insurance with a pre-existing condition?
Depending on the policy you take out, you may find some pre–existing conditions, as well as any conditions connected to them, excluded from full medical underwriting… but this does not necessarily mean you cannot get cover for all conditions and treatments. It is always best to speak to an adviser to discuss your circumstances, who can then point you towards the provider and policy that are right for you and your situation.
In most cases, pre-existing conditions are reviewed after two years of holding a policy, should there be no medical advice, treatment, or medication during that period.
What does senior private health insurance cover?
All senior health insurance policies will have core cover as a minimum to include cover of general treatments before optional extras are added on. This also means you will be able to bypass NHS queues and have quick access to treatments included in the below core cover:
In-patient cover: Cover for when you're admitted to the hospital and stay overnight. Cover includes hospital accommodation charges, specialist fees such as consultants, surgeons, and anesthetists, diagnostic tests and scans such as CT, PET, or MRI, plus X-rays or physiological tests.
Out-patient cover: Covers you when you visit a hospital and return home the same day without being admitted – in other words, you're not given a hospital bed. Out-patient cover includes the cost of consultations, diagnostic scans/tests, and some minor surgical procedures. Some insurers also include physiotherapy in their outpatient cover.
You can choose to have a fully comprehensive option that includes outpatient cover in full, remove this cover or limit it. If you choose to limit your outpatient cover, there is usually a range of limits you can set, usually from £500 to £1,500.
Day-patient cover: Covers you when you're admitted to the hospital and discharged the same day and includes the same benefits as in-patient cover.
Cancer cover: Policies normally include cancer care as standard, including breakthrough treatments not necessarily available through the NHS. It also covers a range of features that will support you and your family through your cancer treatment.
Digital GP and health support: This can help you look after your health from the comfort of your own home via video call appointments the same day, day, or night. Prescriptions are delivered to your door and direct referrals to consultants are provided as required. This is included within the core cover of health insurance plans.
What optional add-ons does senior private health insurance include?
The level of cover for any individual can be adapted to best suit their needs through a wide variety of optional add-ons, such as:
Travel: This includes standard travel insurance features such as cover for missed or delayed flights. More importantly, you will be covered for any medical emergencies while abroad.
Dental: Cover for general dental treatments – crowns, fillings, accidental damage, and dental emergencies.
Optical: Optical cover can help pay for the cost of eye tests, glasses, or contact lenses (usually provided if there has been a change in prescription).
Mental Health: To cover you for the diagnosis and treatment of most mental health issues.
Therapies: This covers the cost of physiotherapy, osteopathy, and chiropractic treatment. Some insurers also include other holistic therapies.
Can you still access the NHS?
Senior private health insurance works in the same way as general PMI: it's there to complement the NHS, not replace it: senior private health insurance allows you quicker access to certain treatments however access to the NHS will still very much be there. For example, you will continue to access A&E treatment through the NHS as this is not covered by PMI policies.
Find out more about Health Insurance for the over 50s: your next step
Usay Compare

, who has kindly provided this helpful guide, offers a free comparison service to help you review senior health insurance policies from market-leading UK insurers such as Aviva, VitalityHealth, Bupa, Health-on-Line, AXA, and more. Expert and knowledgeable advisers at Usay Compare can also support you to find the perfect policy at the best price, with no commitment to purchase.
Two months' free health insurance
Additionally,

Usay Compare

is offering two free months for anyone who clicks on the link below and so is introduced to them through this website.
Click here to visit Usay Compare.